CHICKEN FLORENTINE STRATA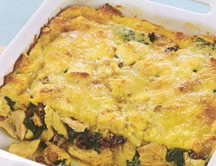 Ingredients
* 
1 ½ pounds boneless, skinless chicken breast halves, sliced into thin strips
* 
2 Tbsp olive oil
* 
2 shallots, minced
* 
1 tsp salt
* 
½ tsp black pepper
* 
¼ tsp cayenne pepper
* 
1 package (16 oz) frozen spinach, thawed and well-drained
* 
1 cup sundried tomatoes, drained and chopped
* 
10 slices white bread, cut into cubes
* 
2 cups grated Monterey Jack cheese
* 
6 eggs
* 
2 cups whole milk
* 
2 tsps Dijon mustard
* 
¼ tsp nutmeg
Preparation
1.  Lightly grease a 3 quart casserole dish.
2. In large skillet over medium-high heat, warm oil. Add shallots to skillet and sauté 1 minute. Add chicken strips and cook 5 minutes more, or until cooked through. Season chicken with salt, black pepper and cayenne pepper.
3. Place a layer of bread cubes in the bottom of the dish. In alternating layers, place chicken, spinach, sundried tomatoes, cheese and bread, ending with a sprinkling of bread on top.
4. In large bowl, combine eggs, milk, mustard and nutmeg with a whisk. Pour mixture over the casserole, cover and refrigerate 4 hours or overnight.
5. Preheat oven to 350 F. While oven heats, remove casserole from refrigerator and warm to room temperature. Place casserole in oven and bake 35 – 40 minutes, until golden brown on top. Remove from oven and cool 5 minutes before serving. Serve hot or at room temperature.
Nutritional Information, Per Serving: 450 calories; 23 g fat; 9 g saturated fat; 25 g carbohydrate
Serving Size: 8